IP Camera Systems
Network Cameras
The best in network video: innovation, quality and opportunity
Whatever you're looking for, you'll find one of our camera to suit your needs. From robust outdoor cameras to discreet products for sensitive environments, we offer it all.
Our security cameras provide excellent HDTV image quality regardless of lighting conditions and the size and characteristics of the monitored areas. And they do it while minimizing bandwidth and storage needs to help you save energy.
Analytic applications and our partners transform our network cameras into business tools. They can alert you to developing situations and help you make smart decisions about operations and resource allocation. Data can also be integrated with your other systems.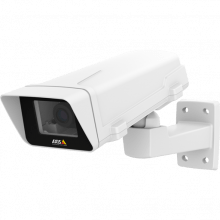 Fixed box cameras
For deterrence in any environment

Modular cameras
Flexible installation for highly discreet surveillance anywhere

Panoramic cameras
For complete situational awareness with just one camera

Positioning cameras
For completely unobstructed views in every direction

Specialty cameras
For unique needs and scenarios

Thermal cameras
Reliable detection – 24 hours a day, seven days a week

Fixed bullet cameras
For all-purpose surveillance around the clock

Fixed dome cameras
For discreet surveillance in any environment

Onboard cameras
Surveillance on buses and trains
Real-time movement and control
PTZ network cameras uses pan, tilt and zoom to provide both wide-area coverage and great detail with a single camera. Great image quality and the ability to zoom in make it possible to verify detected security events. The result is maximum protection and minimum costs.
The cameras are equipped with a variety of intelligent features and can move between pre-set positions and zoom in automatically in response to detected events. They can also be easily integrated into a system with other cameras.
Our PTZ network camera offering include extremely robust models suitable for the harshest environments and climates.

PTZ Network Camera Series
Small cameras for the big picture

PTZ cameras
Pan, tilt and zoom capabilities for wide area coverage

Explosion-protected cameras
Explosion-protected fixed and PTZ network cameras certified for hazardous areas.

Canon network cameras
PTZ, fixed and fixed dome cameras for a variety of applications

PTZ Network Camera
All that and more

PTZ Network Camera Series1
Cameras that blend into their environment

PTZ Network Camera Series
Versatile, high-performance cameras

PTZ Network Camera Series
Robust cameras for mission-critical applications

PTZ Network Camera Series
See above the horizon in resolutions up to 4K

PTZ Network Camera
Heavy-duty PTZ camera with OptimizedIR

PTZ Network Camera Series
Unobstructed views with superb details

Bispectral PTZ Network Camera Series
Thermal and visual surveillance in one
PTZ Network Camera Series
Live streaming cameras for professional use